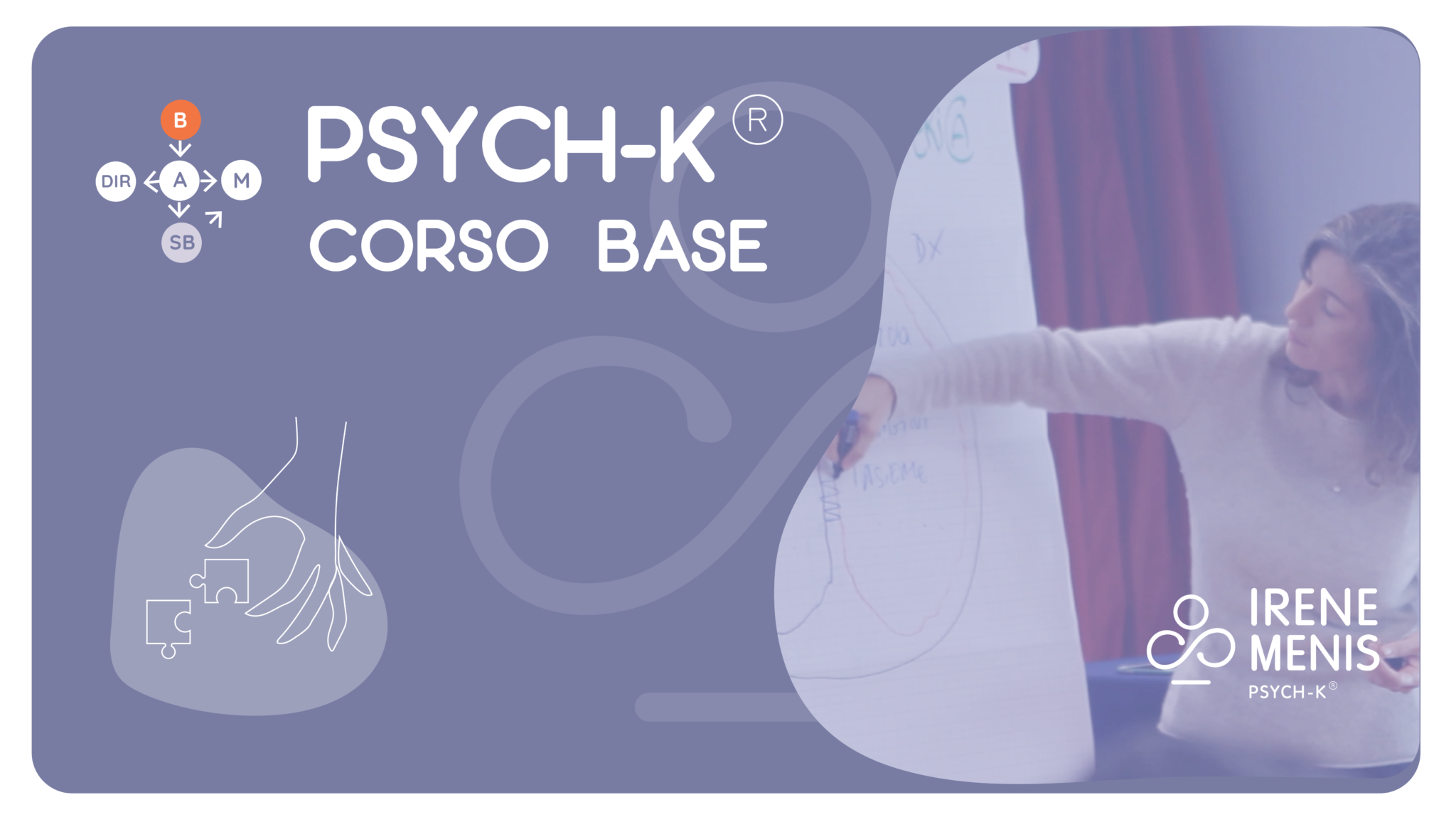 The aim of the PSYCH-K® Basic Workshop is that each participant learns the philosophy and the processes to transform their subconscious in a safe and appropriate way.
These simple and effective processes (called Balances) allow you to align your conscious and subconscious mind with your soul purpose. You will be able to transform the limiting beliefs and neutralize the stressful and painful situations that have slowed you down in your self-realization journey.
At the end of the PSYCH-K® Basic Workshop you will be able to use each of the Balance processes autonomously in any situation, for yourself and with your loved ones.
The Workshop is very practical and during the three days you will already resolve some of your personal situations.
The PSYCH-K® Basic Workshop is the starting point for those who are ready to acquire more freedom in their own life journey, aligning their conscious, subconscious and superconscious (spiritual) parts.
How beliefs influence our life and how they shape our "reality"
Brain Dominance Theory and Whole Brain State
Superconscious – Conscious – Subconscious
Muscle test: demonstration and practice in pairs
New Direction Balance: demonstration and practice in pairs
Resolution Balance: demonstration and practice in pairs
PSYCH-K® Principles and philosophy
How to create a well-formed and self-empowering goal statement
How to engage the Subconscious in goals setting: demonstration and practice in pairs
Procedure for using PSYCH-K® in daily life
Transform the perception of a stressful situation
Self muscle test: demonstration and practice
Insights and practice on personal issues
Presentation and demonstration of following Workshops and post workshop support services
As part of the workshop material, you will receive guidelines to transform your limiting beliefs in the following critical areas:
Grief and loss
Learning life lessons and letting go of the past, welcoming and forgiving yourself and others, is what allows us to open up to a radiant future and see the beauty of life.
Self-esteem
Loving and appreciating ourselves just as we are is the first step in feeling worthy of deserving and receiving. In this only way can we allow the gifts of the Universe to reach us and we can fully enjoy them.
Relationships

Relationships, personal and professional, are key in our life: they can be source of either infinite joy or painful regret and frustration. Healing the past wounds and becoming able to lovingly protecting our boundaries makes us stronger, free to be ourselves and feel safe in any situation.
Prosperity

The limiting beliefs about money and abundance in general are wide. Transforming them is a precondition to welcome the prosperity that the Universe is ready to deliver in order for each of us to fulfill our souls' purpose.
Spirituality

Recognizing ourselves as divine beings who are having a human experience and establishing a communication with the Divine within us is the root of full joy and true well-being.
Health and body
Take care of your body; give it the right rest and nourishment; cultivate healthy habits; activate and trust natural self-healing processes. In this way our limiting or empowering beliefs influence our fulfillment and our "joie de vivre".
Personal Power
Making the right decisions, learning from our mistakes, recognizing and making the best use of our talents, focusing on the positive side, using time effectively: these are among the needed ingredients to be the best of ourselves and express our truth with love and respect for ourselves and others.
Alignement with the Principle of Nature
Nature is before our eyes, all around us, and it is a source of inspiration for perfection and balance. Robert Williams and Bruce Lipton drew 11 Key Principles from Nature contemplation with the purpose to restore the alignment of our subconscious mind with the wisdom of Nature.
The participation fee for the PSYCH-K® Basic Workshop are VAT exempt and have to be agreed with the instructor on a case by case base, according to the Country currency and economical frame.
Please contact me if you are willing to sponsor a workshop in your country.
The participation fee for the PSYCH-K® Basic Workshop includes:
participation in a three-day PSYCH-K® Basic Workshop in a group
a free re-participation with the same instructor within one year
a Zoom call a couple of weeks after the PSYCH-K® Basic Workshop to check and share the post-workshop experience.
official handouts and detailed instructions to facilitate the Balances given in the PSYCH-K® Basic Workshop
issue of an internationally valid PSYCH-K® Facilitator Statement of Attendance
a WhatsApp Chat in English reserved for PSYCH-K® Basic Workshop Facilitators, to share successes, questions, experiences and advice.
FIRST AND SECOND DAY
9:00-13:00 and 14:30-18:00
THIRD DAY
9.00-13.00 and 14.30-16.30
On the first day you are invited to arrive at least 8:45
to check-in so that we are able to start group activities at 9:00 sharp.
CHOOSE A DATE IN THE CALENDAR
If you wish to receive information about next events, or if you are willing to sponsor a PSYCH-K® Workshop write to me.