PSYCH-K® MASTER FACILITATION WORKSHOP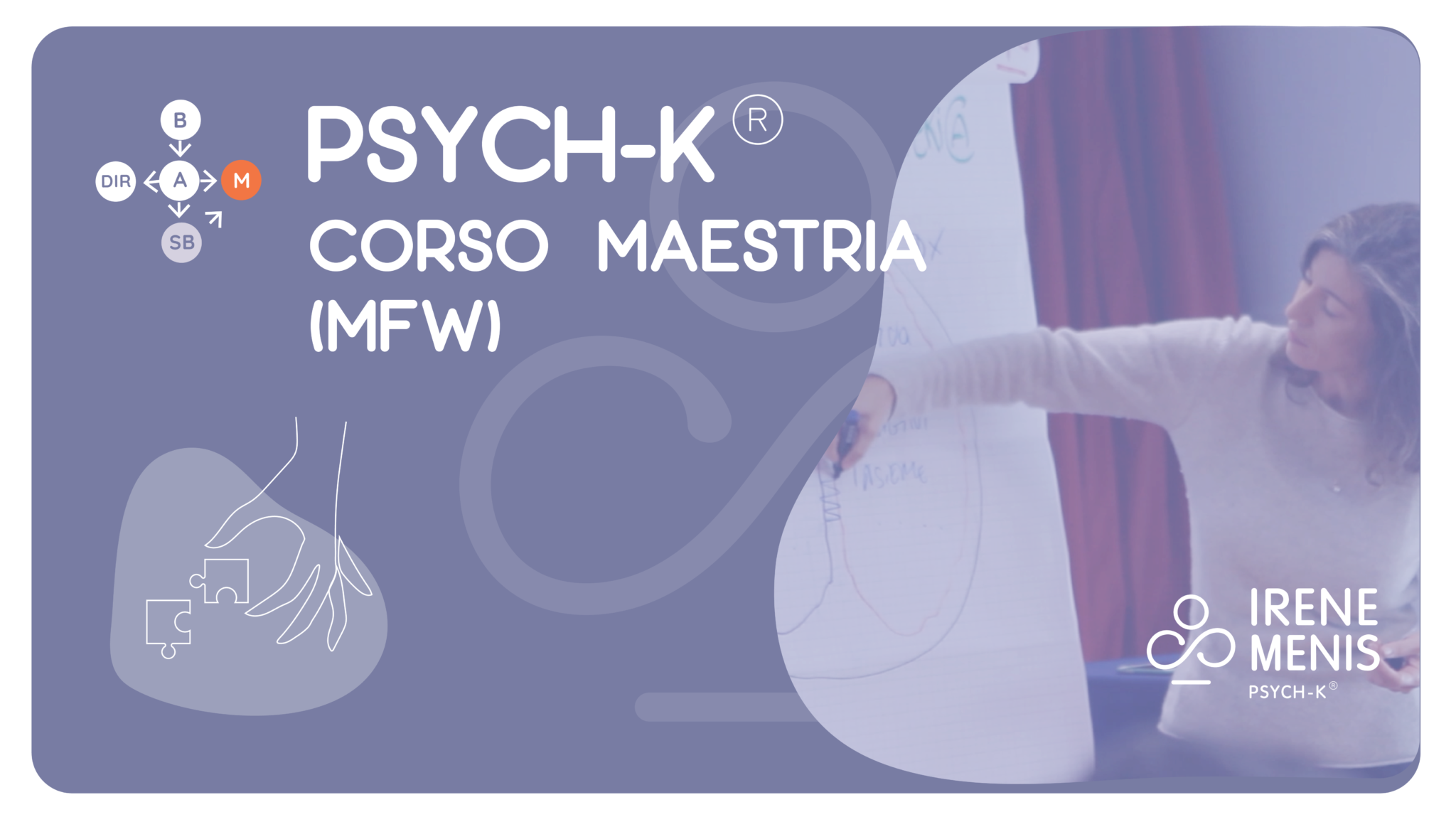 The PSYCH-K® Master Facilitation Workshop is designed for Facilitators who want to expand their skills in facilitating at a high level, with themselves and others, in person or remotely, on the phone or by videoconference, on personal and professional level.
The course is PRACTICE-oriented: you will learn to facilitate a PSYCH-K® session from start to finish, to better set the "before" and "after"; to facilitate in person and remotely (on Skype or on the phone).
You will experience all the tools to inform, lead and support your Partner in a path of self-realization with PSYCH-K®, to facilitate in a natural and impeccable way, in a space of unconditional love, with the effect of increasing effectiveness, ease and confidence in facilitation PSYCH-K®.
– Communicate properly and effectively about PSYCH-K®®
– Describe yourself and propose yourself as a PSYCH-K® facilitator®
– Learn the best approaches to create an empathic and optimal relationship with the Partner: active listening and mutual language
– Review and deepening of the balance to transform the perception of a stressful situation, of the VAK to the Future and of the action plan
– Refine the definition of the Goal to maximize effectiveness minimizing the number of balances
– Find and balance the Message from a situation/condition
– Find and balance the Secondary Benefit
– Communicate with the Superconscious more extensively
– Balancing in circumstances when the conscious mind is not aware of the Goal
– Facilitate with a Partner remotely located: The Surrogation
– How to manage the fist contact with the Partner in an effective and welcoming way
– Set up an individual session with simplicity and effectiveness
– Manage time and agenda in an optimal way
– Recognize your ideal partner and reach him clearly
– Structuring a presentation of PSYCH-K®
– Accompany the Partner in his self-realization journey with PSYCH-K®
– Manage Privacy and disclaimer
– Propose PSYCH-K® in synergy with other methodologies you already know
The course is structured in four phases: three at home and one in the classroom.
PHASE 1: Soon after registration, you will receive documentation in digital format to get prepared for the group experience in class. Processing of this material requires at least 2 weeks before the course, and this is the deadline for registration.
PHASE 2: Three-days workshop with the following times:
– from 9:00 to 18:30 the first two days, with an hour break for lunch
– from 9:00 to 17:00 on the last day, with one(an hour) and a half hour break for lunch.
Group workshop in which we will review the basics, learn new processes and approaches, facilitate and be facilitated in a protected context and with the advantage of a neutral observer.
PHASE 3: After the Workshop you will receive further in-depth material regarding the communication and marketing aspects of your activity as PSYCH-K® Facilitator.
PHASE 4: This material will be further elaborated and commented with the group in a webinar set on an agreed date at the end of the whorkshop.
The participation fees for the PSYCH-K® Master Facilitation Workshop are exempt from VAT
850 € ,VAT exempt for first-time participants
250€, VAT exempt for repeat participants
FIRST AND SECOND DAY
9:00-13:00 and 14:00-18:00
THIRD DAY
9.00-13.00 and 14.30-17:00
On the first day it is recommended to show up at least 8:45 to complete
check-in and be able to start group activities at 9:00 o'clock.
Professional punctuality is recommended.
CHOOSE A DATE IN THE CALENDAR
If you wish to receive information about next events, or if you are willing to sponsor a PSYCH-K® Workshop write to me.