PSYCH-K® ADVANCED INTEGRATION WORKSHOP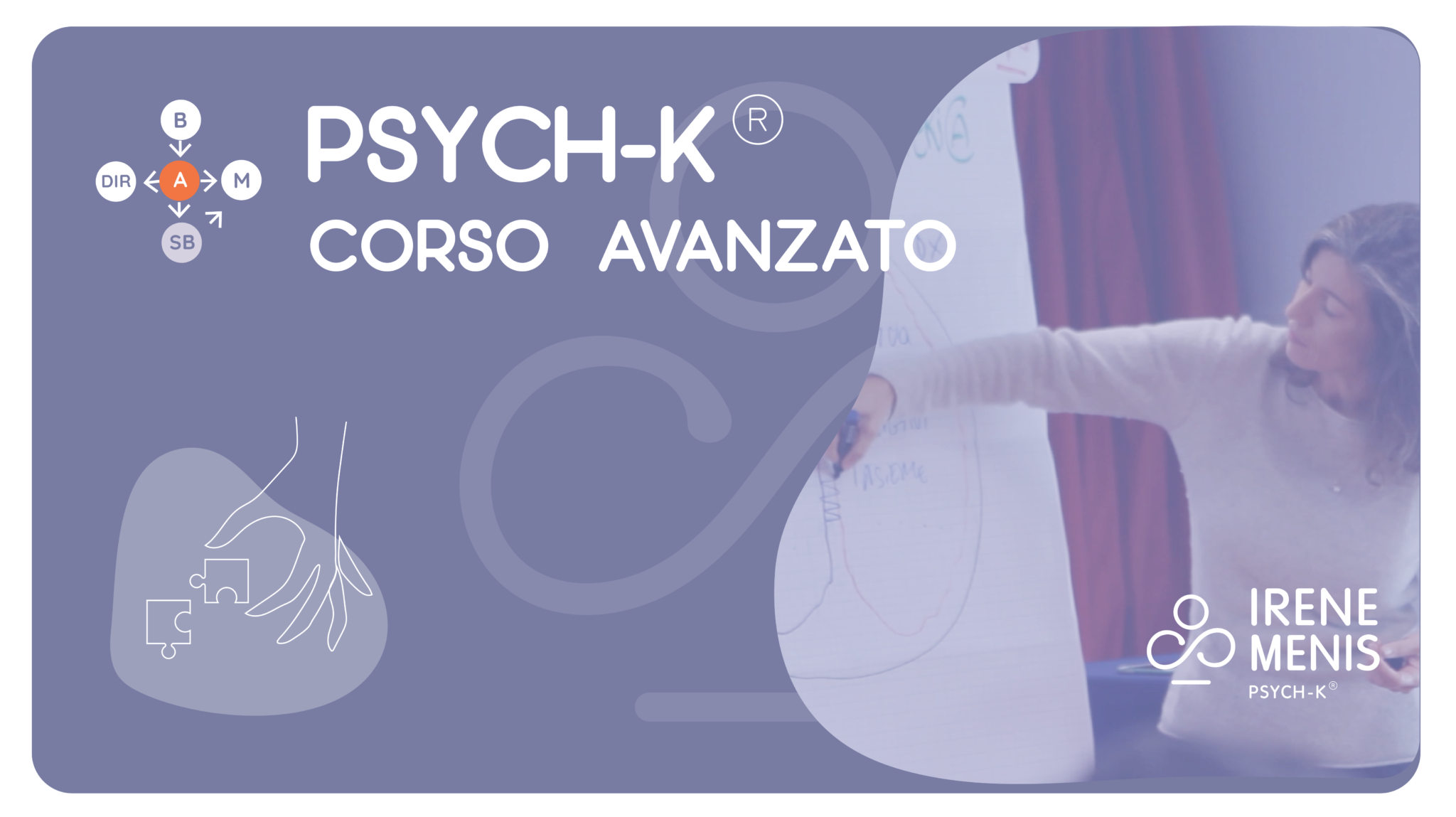 The PSYCH-K® Advanced Integration Workshop is for those who have a passion for PSYCH-K® and want to learn more focused and faster balances, and above all want to expand their access and connection to the unlimited power within us. What at the end of the Basic Workshop felt like a giant leap towards awareness of your personal power, will feel like a small step at the end of this Workshop!
You will learn many more balance processes. Focusing the intention on creating the changes you want in your life will become even simpler and more effective!
This Workshop is also extremely practical and, much more than the previous one, with an extraordinary transformative potential!

Rapport Balance
This balance creates a whole brain state in communication (at subconscious level) allowing for trust and safe in communicating with others. Whatever their communication preferences will be, mutual understanding will be easier and more natural than ever.
You will use a powerful process to establish a whole brain state in visual, auditory and kinesthetic communication, both verbally and non-verbally.
Belief points
You will learn to use 12 energy points on the body, which are derived from ancient acupuncture techniques.
Each point represents key beliefs that give important information on how you are limiting the best expression of yourself in a certain situation. Through these points, beliefs are easy to spot and balanced in seconds.
Energy Focusing
A safe and effective process that allows you to focus energy in a Belief Point to change beliefs at subconscious level in an easy, fast and intuitive way.
Circle of Energy
We are immersed in an energy field, yet often we cannot experience it in a tangible way. The Circle of Energy is an extraordinary experience of focusing energy in a group.
It is an intense experience to connect (integrate) with the energy of unconditional love.
Cor Belief Balance
This process balances 13 Core Belief Statements which often prevent us from fully expressing our best potential in life.
It is a profound process of change that prepares the mind/body system for a significant and fast transformation.
Life bonding Balance
Birth trauma and fear of death are two crucial aspects of human life.
This balance uses breathing to reprogram any negative impacts that these experiences can have on your life.
Relationship Balance
This balance allows you to solve the relational blocks with yourself and others, to learn the life lessons and gifts that each relationship brings. It will offer you a new and clearer perspective on the values of relationships with parents, children, loved ones, friends, colleagues, etc.
Surrogation
This process allows you to connect with others in a safe way and balance remotely. The surrogation works with a surrogate with whom you do the muscle test and the balances for those who are not physically present.
This approach can also be used to expand your awarness and hel remote people who are dear to you and even animals and more.

Surprise
At the end of the Workshop there will be a special gift, a spark of awareness that will connect you with the boundless transformative power of your intention.
Agenda of the advanced course and useful information on what to bring and how to prepare
The first half morning will be dedicated to creating the optimal learning field and to quickly review the philosophy and balances of the PSYCH-K® Basic workshop.
Then and until the evening of the third day, we will demonstrate, receive and facilitate all the balances foreseen by the Advanced Integration Workshop.
The last day will be dedicated to review, integration and customization.
The second and third days will end with the practice of two long balances, therefore the end of workshop times must be taken with flexibility.
On the last day we will use PSYCH-K® in integration with other sources of inspiration: if you have books, cards, vibrational remedies or anything else that resonates and inspires you, you can bring it and we will find out how to use PSYCH-K® in combination with resources that you like.
The advanced workshop involves facilitating some balances by lying down: if you have the possibility, you can bring a massage table.

Even more than in the Basic workshop, there will be a lot of time for practice. In addition, most of the last day will be dedicated to exploring the applications of what has been learned about real cases and examples brought by the participants.
950 €, VAT exempt for first-time participants

€ 300, VAT exempt for participants who have already taken the workshop with other instructors or more than a year ago.
FIRST DAY
9:00am -6:15pm, with 1h15 for lunch break
SECOND DAY
9.00am -7:00pm, with 1h15 for lunch break
THIRD DAY
9.00am-7:00om, with 1h15 for lunch break spread in free time during the practice
FOURTH DAY
9.00am-4:30pm, with 1h15 for lunch break spread in free time during the practice
On the first day it is helpful to show up at least 8:45am to complete
the registration and be able to start group activities at 9:00am o'clock
CHOOSE A DATE AND SUBSCRIBE
If. you wish to remain up to date about the nex events and workshops or if you are willing to sponsor a workshop with uyour group in your town, lets remain in contact